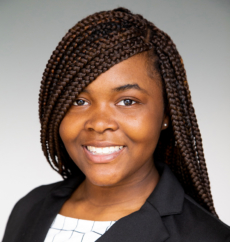 Michaeya
Brighter Horizon Scholar
Meet Michaeya
I want to become a Veterinarian or a Veterinarian technician, because my passion is to save animals who are sick or abandoned. This has been my dream since I was a young girl. Brighter Horizon will give me the best chance of being able to complete my degree so I can pursue my goals.
Our Scholars
The Brighter Horizon Foundation is driven by the unique stories of each individual student. We recognize the passion and perseverance of our scholars and provide the support and resources necessary, so they can overcome any challenge. We invite you to meet our scholars and hear their inspiring stories.
Meet Michaeya.
Michaeya, a resident of West Philadelphia, is a senior at Bodine High School for International Affairs. An only child, she lives with her great aunt and uncle, who stepped in to care for Michaeya when the courts determined her mother could not provide the care she needed. As legal guardians, they have provided a wonderful, nurturing home, and with their guidance, Michaeya has thrived. She is now poised to realize her dreams of being the first in her family to pursue a four- year degree.
Michaeya's list of colleges include Bucknell, Howard, Penn State, Pitt, Syracuse, University of Delaware, Morgan State, Robert Morris and Temple.
She has a passion for, and love of animals, and plans to major in animal science or biology. Her goal is to pursue a career in veterinary medicine.