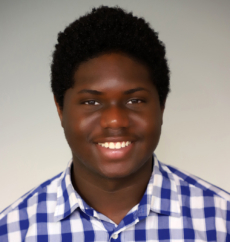 Malik
Brighter Horizon Scholar
Meet Malik
As part of my time in the foster care "system", I was misdiagnosed with various mental health disabilities such as bipolar disorder and ADHD. So, I made a promise to myself. In high school I would learn everything I could about mental health. Then I would major in Psychology in college, work as a psychologist for a few years, and eventually become a Psychology professor. Brighter Horizon is one step towards that goal.
Our Scholars
The Brighter Horizon Foundation is driven by the unique stories of each individual student. We recognize the passion and perseverance of our scholars and provide the support and resources necessary, so they can overcome any challenge. We invite you to meet our scholars and hear their inspiring stories.
Meet Malik.
Malik is a senior at Cristo Rey Philadelphia High School residing in Northeast Philadelphia. In 2013, Malik was adopted after living through six foster homes. His legal parents have provided him with the resources to thrive and place him on the road towards being the first in his family to attend a four-year college.
His past has inspired his passion for therapy and teaching, and he plans to double major in psychology with a minor in sociology. His goal is to be a professor in psychology.
Malik's list of colleges include: American University, Howard University, Penn State, Syracuse, Ohio State, UPENN, Georgetown, University of Pittsburgh, and Yale University.